Florence Béal-Nénakwé: Artiste peintre Camerounaise.
Florence Béal-Nénakwé. C'est bien d'elle dont il s'agit. Tout est original chez elle: sa personnalité, son langage, son esprit et, bien sûr, avant tout, sa peinture. Tiens oui, sa peinture.Florence porte le nom d'une reine de son pays.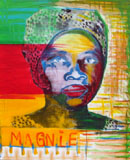 A ce titre, elle eut le privilège de passer le clair de son temps libre et de ses vacances d'enfant dans la Chefferie Bangangté-Ville. Là, elle visita, fit la connaissance, puis intégra en elle les plus grandes collections de masques de bois, de terre, les motifs colorés les plus bizarres qui animaient, littéralement, les cases des épouses du roi, et jusqu'aux colliers aux formes géométriques tatoués sur le cou de sa tante. L'initiation, au plus beau sens du mot commençait.
De retour chez elle, Florence-enfant tentait de reproduire les formes et les couleurs qui l'avaient éblouie. C'était sans compter les moqueries de ses copines de classe ou de jeu. Florence se referma alors comme une huître pour éviter la risée de ces personnes qui l'entouraient et que, pourtant, elle aimait. Alors elle oublia.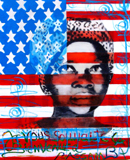 Jusqu'au jour où, plusieurs dizaines d'années après, elle prit conscience de ce qu'elle était vraiment: une femme claire dans son esprit, droite dans son intégrité, amoureuse de ses racines. Sans qu'elle le sache vraiment elle-même, ces racines avaient donné naissance à une fantastique puissance de vie.L'esprit de création de l'adulte prolongeait l'initiation de son enfance.
Désormais, Florence peint malgré elle.Elle peint. Elle peint. Elle n'arrête pas. Le flot qu'elle a si longtemps contenu durant toutes ces années se déverse dans la vie d'aujourd'hui. Toutes ces images de l'enfance, du soleil, de la nature et de l'humanité ressortent maintenant avec une étonnante maturité: beauté des formes, expression pure de la couleur, sensualité libre et joueuse.Quelle magnifique leçon de vie.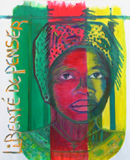 Ne nous y trompons pas. Florence ne copie pas; elle n'imite rien, ni personne. Seule l'énergie intérieure liée à son Cameroun natal et à sa vie personnelle, lui fait jeter sur une toile cette gaieté et cette espérance.
Un chef de ligne esthétique qui a marqué l'histoire de l'art avait affirmé: « Je ne cherche pas, je trouve ». Nous connaissions les sources de sa voie et savons désormais ce qu'il a trouvé et où Florence Béal-Nénakwé a la sagesse et le talent de chercher encore et toujours. C'est encore d'elle qu' il s'agit. Aujourd'hui.
Guy Lefebvre. Directeur du Luminier (Espace culturel de Chassieu)
Florence Béal-Nénakwé: a Cameronian painter.
Florence Béal-Nénakwé. She's the one it is about. Everything is original in her; her personality, her language, her spirit and, of course, her painting. Yes, her painting. Florence has the name of a queen of her country.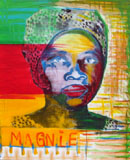 For this reason, she had the privilege to spend her spare time and her holidays childhood in Chefferie Bangangté-City. There, she visited, made acquaintance, and then integrated diverse sources of inspirations into herself: from the largest collections of masks made of wood or earth, the strangest coloured motifs which literally animated the cabins of the wives of the king, to the necklaces with geometrical forms tattooed on the neck of her aunt. The initiation, in the most beautiful meaning of the word started.
Then, back home, althaigh she was just a child, Florence tried to reproduce the forms and the colors which had dazzled her.Not to mention the mockeries of her friends in the classroom. Then, Florence closed up again, like an oyster, in order to avoid being the laughing stock of these people who surrounded her and whom, however,she loved. Then, she forgot all this.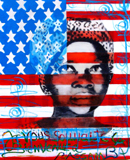 Until the day when, ten or so years later, she became aware of what she really was: a woman with a clear mind, with lots of integrity, a woman in love with her roots. Without her knowing it, these roots had given rise to a fantastic life-giving power. The spirit of creation she had as an adult prolonged the initiation she got in her childhood.
From now on, Florence paints in spite of herself. She paints. She paints. She does not stop. The flood of images she contained during all these years pours out in the life of today. All these images of childhood, the sun, nature and humanity arise now with an astonishing maturity: the beauty of the forms, the pure expression of the colors, their free, playful sensuality. What a splendid lesson of life!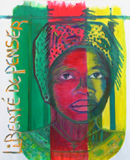 But let us not be misled. Florence does not copy; She imitates nothing or nobody. The internal energy from her native Cameroun and her personal life are enough to make her express this cheerfulness and this hope on a canvas..
An artist who marked the history of Art stated: "I do not seek, I find". We knew the sources of his esthetic way and today we know what he found. Thus we know where Florence Béal- Néanakwé has the wisdom and the talent to keep on seeking. She's still the one it is about today..
Guy Lefevre. Director of Luminier (Cultural space of Chassieu near Lyon)
Florence Béal-Nénakwé:
Florence Béal-Nénakwé . Sí se trata de ella aquí. Todo en elle es original: su personalidad, su lengua, su gracia y claro y ante todo su pintura. Mira pues sí... su pintura.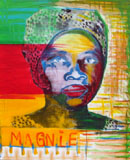 Florence tiene el nombre de una reina de su país. Así, tuvo el privilegio de pasar la mayor parte de su tiempo libre y sus vacanciones de niña en la « Jefatura Bangangté Cuidad ». Allí visitó, apreció y por fin hizo suyas las más grandes colecccionnes de máscaras de madera, de barro, los temas floridos más extraños que animaban, eso es, que animaban las habitaciones de las esposas del Rey, también hizo suyos los collares tatūados en el cuello de su tía. La iniciación, en el sentido más hermoso se iniciaba.
De regreso a su casa Florence niña intentaba reproducir las formas y los colores que la habían cautivado. sin hacer caso de las burlas de sus amiguitas de clase o de juego. Con que Florence se cerró en si misma como una ostra para evitar las risas de esas personas que la rodeaban y que ella amaba a pesar de todo:... y ella olvidó....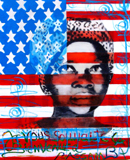 Hasta el día , muchísimos años más tarde, en que se dió cuenta de lo que ellaera realmente: una mujer que sabía claramente lo que era, recta en su ser, apegada y enamorada a sus raíces. Sin que ella lo supiera realmente aquellas raíces habían dado a luz a una fantástica potencia de vida. La necesidad de cración de la adulta era la prolongación de la inicicición de tuvo en su infancia.
Ahora, Florence pinta, a pesar de si misma. Pinta, pinta ... sin parar.La marea detenida durante tantos años se derrama en la vida de hoy. Todas aquellas imágenes de su infancia, el sol, la naturaleza y la humanidad, salen hoy en sorprendente madurez: belleza de las formas, pura expresión del color,sensualidad libre y jugadora...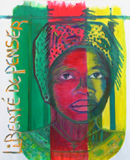 No nos equivoquenos. Florence no copia, no imita nada ni a nadie. Es sólo su energίa vinculada con su Camerún natal y con su vida personal que le permite echar en sus telas tal felicidad y tal esperanza. Un guía en estética que marcó la historia del arte afirmó un día: « No busco, encuentro: Sabemos cuál fue su camino y lo que él encontró, es allí donde Florence Béal-nénakwé tiene la prudencia y el talento de buscar aún y siempre. Sí se trata de elle hoy.
Guy Lefebvre. Diretorio del Luminier (Espacio cultural de la ciudad Chassieu)